The (Will) Power of Social Media
September 21, 2020
"Penske Material" provides an inside look at some of the personalities, stories and moments that make Team Penske so unique.
There's no question that Team Penske's Will Power is one of the all-time NTT INDYCAR SERIES greats on track. The driver of the No. 12 Verizon Dallara/Chevrolet has produced 38 career race victories, 60 pole positions and 80 podium finishes to go along with the 2014 series championship and his memorable triumph in the 2018 Indianapolis 500.
It's not surprising to see Power's name mentioned among the legends of INDYCAR like Mario Andretti, AJ Foyt, Al and Bobby Unser and even longtime current rival Scott Dixon. But Power's increased presence on social media over the last few years could see him eventually being included in a different kind of discussion with such social standouts as Ariana Grande, Dwayne Johnson and Cristiano Ronaldo.
Not that long ago, Power would ask for direction from Team Penske's communications team on the type of content he should post on social media to help build the team and its partners and enhance his own brand. He truly wanted to find his own identity and space in the social media landscape and now it seems that he has found a way to harness the power (small pun intended). Power has quickly gone from being a novice to a social media savant in just a few years by embracing technology and allowing his unique personality and sense of humor to shine as he shares content his followers and potential fans really want to see.
Power first joined Twitter all the way back in 2011 and developed his Facebook and Instagram profiles shortly thereafter. At first, he didn't have a consistent social media presence on any of the channels as his posts were infrequent and he wasn't sure what would resonate with fans. Then Power's life changed forever on May 27, 2018 – the day he became the first-ever Australian born Indianapolis 500 champion.
Immediately following his big win, Power capitalized on the opportunity and he started chronicling the craziness on his social channels. The countless photo opps, video shoots and media interviews of the newly-crowned Indy 500 champ provided the perfect backdrop for Power's low-key personality to blossom. In the days following the Indy 500 victory, he visited New York City and Dallas for media tours. At some point during the whirlwind, Power asked the team and series PR reps accompanying him to take his phone and start recording. A switch seemed to flip as he took fans on his journey while he rode the wild wave and tried to prepare for the next race on the schedule at the Detroit Grand Prix.
It started as just a quick video update between media stops telling his followers where he was and what he was doing. Eventually, Power became comfortable being his own cameraman and it became second nature for him to pull out his Verizon phone and capture his thoughts in his now-famous selfie style, providing awesomely awkward commentary dripping with his signature dry sense of humor and Australian wit. His humanizing content shared across his social channels made this INDYCAR living legend seem less like the fiercely-intense competitor seen on TV during race weekends and more like a loveable goofball. His quirky humor and introspective thought process instantly connected with fans who have come to appreciate Power as a relatable dad with everyday problems that just happens to have one of the coolest jobs in the world.
These days, Power can be seen on his channels updating his over 200,000 followers across Facebook, Twitter and Instagram about his life at home with his wife Liz and their young son Beau. He has also shared his experiences through his Will Power Kart team, which helps young drivers get their start in racing, along with memorable moments including cycling with friends, playing tennis with Team Penske NASCAR teammates Brad Keselowski and Austin Cindric, crashing the stage at a Team Penske party celebrating Roger Penske's NASCAR Hall of Fame induction while Darius Rucker was performing and walking into the middle of a live TV weather report while on a media tour. Social media has also provided Power a great stage for the occasional challenge with his Team Penske INDYCAR teammates Josef Newgarden and Simon Pagenaud. Earlier this year, he convinced his teammates he could do 400 push-ups at one time as the challenge played out on Power's Instagram Story over the course of a few months during the coronavirus pandemic.
Another Power profile that's become a favorite of fans and fellow drivers alike is his ongoing saga featuring "mysterious" Amazon packages that arrive on his doorstep in droves. This is a not-so-subtle "issue" addressed by Power as a way to mock his wife Liz's frequent Amazon purchases.
Social media has allowed Power to channel his inner comedic talents. Apparently the humor gene runs in the family as Damien Power, Will's brother, is a standout stand-up comedian in their native Australia. When Damien and Will get together, the Power brothers have been known to team up for some silly antics that the Team Penske racer naturally shares on his social channels to reinforce the "Power-ful" sibling sense of humor.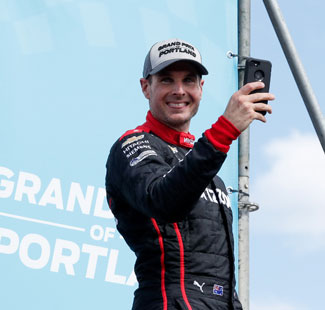 In 2019, Power enlisted the help of a social media manager to assist with content and strategy across his platforms. Since then, Power's social media channels showcase even more content, to the delight of his followers and new fans that have only begun to experience the wild world of Will Power.
As the unique 2020 INDYCAR SERIES season winds down, Power – fresh off his first win of the year at Mid-Ohio – will continue to fight for wins on track while he shares his experiences behind-the-scenes with fans that have embraced the "Power" of social media.
More Penske Material
Read more about the personalities, stories and moments that make Team Penske unique.