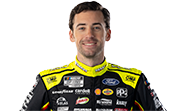 Birth Date:

December 31, 1993

Height:

5'7"

Birth Place:

Hartford, OH

Weight:

165 lbs

Residence:

Mooresville, NC

Twitter:

@blaney

Facebook:

@Blaney12

Instagram:

@Ryanblaney10

Car:

Ford Mustang

Crew Chief:

Jonathan Hassler

Primary Sponsor:

Menards/Discount Tire/BODYARMOR/DEX Imaging/Advance Auto Parts/WURTH/Wabash
Biography
Ryan Blaney enters his eighth full season in the NASCAR Cup Series (NCS) in 2023 and he will be a mainstay in the No. 12 Menards/Discount Tire/Advance Auto Parts/BODYARMOR/Wurth/Dent Wizard/Wabash Ford Mustang after signing a multi-year contract extension during the 2022 season. Blaney led a race-high 84 laps en route to his first-career All-Star Race victory at Texas Motor Speedway in 2022, netting the No. 12 team a $1 million payday. A model of consistency throughout the 2022 season, Blaney produced a Cup Series-leading nine stage wins while ranking second with 290 stage points last season. His average finish of 13.6 – courtesy of 12 top-five and 17 top-10 finishes – helped Blaney advance to the Round of 8 in the 2022 NASCAR Playoffs.
The 2022 season marked Blaney's first with crew chief Jonathan Hassler, who took the reigns of the No. 12 Ford Mustang team last season. After a successful run as an NCS race engineer with Team Penske, in 2021 Hassler served as crew chief for the No. 21 Ford Mustang with the team's technical alliance partner – Wood Brothers Racing.
In 2021, Blaney recorded a single-season career-high three victories as he advanced to the Round of 8 in the NASCAR Playoffs for the second time in his career. An early-season victory at Atlanta Motor Speedway locked Blaney and the No. 12 Ford team into the 2021 Playoffs and they continued to produce with wins at Michigan International Speedway and Daytona International Speedway to close out the regular season. In addition to the race victories, Blaney and the team delivered consistently strong results over the course of the season as the third-generation racer posted a career-best 20 top-10 finishes.