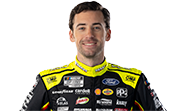 Birth Date:

Dec, 31, 1993

Height:

5'7"

Birth Place:

Hartford, Ohio

Weight:

165 lbs

Residence:

Mooresville, NC

Twitter:

@blaney

Instagram:

@Ryanblaney10

Car:

Ford Mustang

Crew Chief:

Jeremy Bullins (MENCS) / Matt Swiderski (NXS)

Primary Sponsor:

Menards, PPG, DEX Imaging, BODYARMOR, REV Group, VF Wrangler, MoneyLion, Wabash National
Biography
At 25-years-old, Ryan Blaney remains a key pillar of NASCAR's youth movement and an important part of Team Penske's championship-winning NASCAR program. Full of enthusiasm, passion and talent, Blaney will begin his eighth season with Team Penske in 2019 and his second season racing full-time for the team in the Monster Energy NASCAR Cup Series (MENCS). Blaney returns to the No. 12 team this season racing the Menards/PPG/DEX Imaging/BODYARMOR/REV Group/VF Wrangler/MoneyLion/Wabash National Ford Mustang.
In 2018, Blaney made the transition back to Team Penske from Wood Brothers Racing, as he raced a third Team Penske full-season MENCS car – a first for the team since 2010. Blaney returned to victory lane last season when he won the inaugural Bank of America ROVAL 400 at Charlotte Motor Speedway. The win allowed him to advance to the Round of 12 in the NASCAR Playoffs. Blaney eventually finished 10th in the final championship standings after he scored career bests in top-five finishes (eight), top-10 results (16), poles (three) and laps led (660).
Blaney also raced in four NASCAR XFINITY Series (NXS) events in 2018, driving the No. 22 Ford Mustang. He posted a dominant win at Texas Motor Speedway in April as he led 132 of 200 laps to capture his seventh series victory. Blaney started from pole twice and collected four top-five finishes in his four NXS starts.
In 2017, Blaney delivered NASCAR's longest-running team its best season finish since 1995, when he captured his first career MENCS victory at Pocono Raceway and the 99th all-time win for Wood Brothers Racing over 67 years of NASCAR competition.