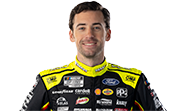 Birth Date:

Dec, 31, 1993

Height:

5'7"

Birth Place:

Hartford, Ohio

Weight:

165 lbs

Residence:

Mooresville, NC

Twitter:

@blaney

Instagram:

@Ryanblaney10

Car:

Ford Fusion (MENCS) / Ford Mustang (NXS)

Crew Chief:

Jeremy Bullins (MENCS) / Brian Wilson (NXS)

Primary Sponsor:

Menards, PPG, Carlisle, REV Group, DEX Imaging, BODYARMOR (MENCS) / Discount Tire, REV Group, Snap-on (NXS)
Biography
At just 24-years-old, Ryan Blaney is a key pillar of NASCAR's youth movement. Full of enthusiasm, passion and talent, Blaney will make his full-season Monster Energy NASCAR Cup Series (MENCS) debut for Team Penske in 2018 driving the No. 12 Menards/PPG Ford Fusion. Blaney makes the transition to Team Penske following a career year in 2017 with Penske technical alliance team, Wood Brothers Racing, where he raced the famed No. 21 Ford for the last three seasons.
Blaney delivered NASCAR's oldest running and most historic team its best season finish since 1995, capturing his first career MENCS victory at Pocono Raceway and the 99th all-time win for Wood Brothers in 67 years of NASCAR competition. Blaney also earned his first and second career MENCS pole positions in 2017, after leading qualifying at Kansas Speedway and Phoenix International Raceway, helping Wood Brothers Racing score their 118th pole. Blaney and the No. 21 Ford team finished second in the Daytona 500, earned a spot in the Playoffs and made it to the Round of 8 before eventually finishing ninth in driver standings with four top-five and 14 top-10 finishes.
Blaney also made 13 NASCAR XFINITY Series (NXS) starts for Team Penske last season, as he captured two wins (Charlotte Motor Speedway, Dover International Speedway) and helped secure the team's fourth owner championship with 12 top-five results. Blaney led 692 laps and produced a remarkable success rate posting 11 results of third place or better in his 13 starts.