2021 Season Overview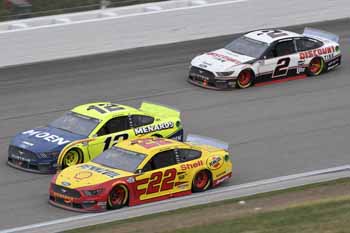 Following a season unlike any its history, Team Penske is ready to add to its heritage as North America's most successful racing organization while competing for race victories and series championships in 2021.
Racing through a season that featured a pause in on-track competition, followed by readjusted and condensed series schedules with health and safety protocols as a result of a global pandemic, Team Penske overcame adversity to produce another championship year in 2020. The organization's race teams earned 39 wins, 30 pole positions and three championships across the five series where it competed last season.
In 2021, Team Penske is focused on carrying on its tradition of winning as its teams approach an incredible milestone of 600 all-time race victories while looking to add to the pedigree of 40 series championships. With title-winning teams in place in the NASCAR Cup Series, NASCAR Xfinity Series and the NTT INDYCAR SERIES, Team Penske is poised for another successful season.
All three Team Penske Cup Series teams won races and qualified for the Playoffs last season and the goal for the team is to continue that level of production and earn the organization's third series championship in 2021.
Brad Keselowski returns for his 13th season driving the No. 2 Ford Mustang and the winningest driver in Team Penske history hopes to add more victories and a second Cup Series title to resume this season. Team Penske's realigned team/crew chief lineup in 2020 saw Keselowski paired with crew chief Jeremy Bullins to reunite the combination that produced an Xfinity Series title for the team. The duo recaptured their magic together with four victories before finishing second in last season's final championship standings and they look to guide the Discount Tire/Wurth/Freightliner/Autotrader/Wabash/Snap-on/MoneyLion/PIRTEK/Dent Wizard/Keystone Light Ford team back to the championship round in 2021.
For the last three consecutive seasons, Joey Logano and the No. 22 Ford Mustang team have finished inside the top five in the Cup Series standings, including winning the championship in 2018. After posting three victories, advancing to the Championship 4 final showdown and finishing third in the title chase in 2020, Logano is ready race for another championship in his ninth season competing for Team Penske. Paired with crew chief Paul Wolfe for the first time last year, Logano and the No. 22 team got off to a strong start as they won one of the Daytona 500 duel qualifying races before capturing the checkered flag in the second race of the 2020 season at Las Vegas. Additional victories at Phoenix and Kansas helped fuel another run for the series crown. Logano, Wolfe and the No. 22 Shell-Pennzoil/AAA/Autotrader/MoneyLion Ford team will look for similar early-season success in 2021 while trying to carry momentum all the way through another championship run.
After four consecutive winning seasons in the Cup Series, Ryan Blaney returns for his 10th season with Team Penske in 2021. After teaming up with crew chief Todd Gordon on the No. 12 Ford Mustang team last season, Blaney continued to produce at a high level for Team Penske as he established a new career high in laps led (668) and equaled his best performance with 11 top-five finishes. Following a win at Talladega, Blaney once again earned a spot in NASCAR's post season and he finished inside the top 10 in the championship standings for the fourth consecutive year. Blaney, Gordon and everyone on the No. 12 Menards/Advance Auto Parts/DEX Imaging/BODYARMOR Ford will be striving for an even deeper Playoff run in 2021.
Coming off a championship-winning performance in 2020, Team Penske's NASCAR Xfinity Series (NXS) program aims to defend its title this season. Austin Cindric, crew chief Brian Wilson and the No. 22 Ford Mustang team delivered impressive results last season with six victories and 19 top-five finishes. Following an incredible mid-season stretch that saw Cindric win five of six series races, the young driver and the experienced team saved their best for last. After capturing the regular-season NXS crown, Cindric advanced to the Championship 4 and produced a memorable overtime victory in Phoenix to win his first NASCAR championship and Team Penske's fifth Xfinity Series title. Cindric and the No. 22 Menards Ford team will strive to repeat as NXS champions and the young racer will also compete in select Cup Series races in 2021, driving the No. 33 Ford Mustang.
Team Penske expands from three teams to four full-season entries in the NTT INDYCAR SERIES in 2021. Series champion drivers Josef Newgarden, Simon Pagenaud and Will Power return to the team this season and they will be joined by another Team Penske champion – Scott McLaughlin – who will make the transition from racing Australian Supercars to competing in INDYCAR in 2021.
Now in his fifth season with Team Penske, Newgarden continues to be one of the brightest stars in INDYCAR racing. In 2020, the talented American racer fell just short of repeating as series champion as he tied for the series lead with four victories. Once again teamed with race engineer Gavin Ward on the No. 2 Hitachi Chevrolet team, Newgarden will be racing for his third series title with Team Penske this season and he looks to add a victory in the Indianapolis 500 to his list of accomplishments.
As he continues to add to his legacy as one of INDYCAR's all-time great drivers, Power returns for his 13th season with Team Penske. The Australian racer has produced at least one victory in every season that he's raced for the team and he remains one of the fastest and most competitive racers in INDYCAR, working with longtime race engineer David Faustino on the No. 12 Verizon Chevrolet team. With 39 career INDYCAR SERIES victories entering 2021, Power – the 2014 series champ – could also eclipse the series' pole position record this season as he begins the year just five poles behind legend Mario Andretti for the all-time record of 67 poles won in INDYCAR competition.
The 2021 season represents Pagenaud's seventh campaign competing for Team Penske. The fast Frenchman continues to produce for the team as he's earned 11 wins, along with the 2016 INDYCAR title, during his reign with Team Penske. Pagenaud and race engineer Ben Bretzman are one of the most productive tandems in INDYCAR and they will once again lead the No. 22 Menards Chevrolet team this season as they fight for wins and another series championship.
After recording a remarkable 53 wins and 71 poles in nine seasons of Supercars competition while claiming three consecutive driver's championships for Team Penske, McLaughlin joins the organization's INDYCAR program in 2021. The young New Zealand driver is ready to take on a new challenge and the next phase of his career with the team this season. He made his INDYCAR debut at the 2020 season finale in St. Petersburg and in 2021 McLaughlin will compete for a full series season as he teams up with race engineer Jonathan Diuguid and the No. 3 PPG Chevrolet team.
With championship-winning teams, talented drivers, premier partners and experienced leadership and crews across all levels of competition, Team Penske's 55th season promises to be exciting and full of opportunities on and off the track in 2021.