Rick Mears Continues to Add to the Team Penske Legacy
May 28, 2020
"Penske Material" provides an inside look at some of the personalities, stories and moments that make Team Penske so unique.
Team Penske's success in the NTT INDYCAR SERIES is well documented with legendary drivers contributing to the team's more than 200 race wins, including 18 Indianapolis 500 victories and 16 series championships. Perhaps no one person outside of Roger Penske himself has factored into more of those collective team triumphs than Rick Mears.
Known as "Rocket Rick" by fans, Mears took his love of racing from his hometown of Wichita, Kansas to winner's circles all over the country throughout his INDYCAR career, not only as a driver but as a spotter, team advisor and everything in between. He is best known for his record-tying four wins in the Indianapolis 500 (1979, 1984, 1988 and 1991), along with his 29 career victories and three IndyCar Series championships (1979, 1981 and 1982).
Mears was raised in Bakersfield, California after his family moved from Kansas when he was four years old. He first hit the track in the 1960s, racing motorcycles in southern California before moving to four-wheel spring buggies. He won seven off-road racing events in 1973, followed by an overall win at Pikes Peak in 1976.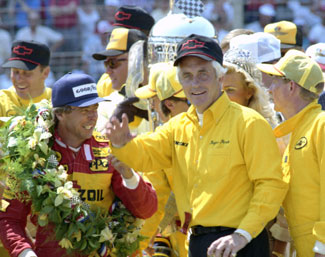 In 1977, he made his debut for the small Art Sugai team driving an Eagle-Offenhauser in the USAC Championship Car Series and, believe it or not, he failed to qualify for the Indianapolis 500 in his first attempt. Though he didn't make the race that year, his effort and drive caught the attention of a man who would truly change his life forever, Roger Penske. In 1978, Mears was offered a part-time ride, competing in 11 of 18 championship events, filling in for Mario Andretti during his races overseas in Formula One. Mears made the most of his opportunity, winning three races with Team Penske in 1978.
During his first attempt to qualify for the Indianapolis 500 with Team Penske that first season, he qualified on the front row and was the first rookie to qualify over 200 mph in a Penske PC-6. Unfortunately, his first attempt in the race was cut short due to a blown engine, but he wound up sharing "Rookie of the Year" honors for the event with Larry Rice. Just two weeks later at the Milwaukee Mile, he won his first race in the series with Team Penske.
In 1979, Mears won his first Indianapolis 500 in the year-old Penske PC-6 during the first year of the CART Series. This marked just the beginning of his remarkable track record at the "Greatest Spectacle in Racing." During the race, he was able to stay at the front of the field, taking advantage when Bobby Unser fell out of contention due to mechanical problems running the new Penske PC-7. Mearns won a total of three races and garnered four podium finishes in the 11 races that season on the way to his first IndyCar championship.
In 1981 and 1982, Mears captured back-to-back series championships with 10 wins in 22 races over two years competing in the series during that time period. He became the first driver to capture three PPG Cup crowns under the CART sanction. During the 1981 season, Mears became the first driver in the series to win every road course event in one season when Mears set race records with each victory at Watkins Glen, Mexico City and Riverside.
While the chassis proved unsuccessful for the first two races of that season, the March 84C chassis allowed Mears to bring home his second career Indianapolis 500 win in 1984. Later that year, he suffered severe leg injuries in an accident at Sanair Super Speedway that would affect him for the remainder of his driving career. Over the next three seasons, he only won two races – the 1985 and 1987 Pocono 500.
In 1988, the team switched to a new chassis, the Penske PC-17 with a Chevrolet engine. The new car helped Mears to win his third Indianapolis 500.
A practice accident in 1991 brought Mears' first contact with the wall at Indianapolis. It did not rattle him or the team as they qualified on the pole for the sixth time at Indianapolis the very next day. Late in the Indianapolis 500 that year, Michael Andretti appeared to have the stronger car as the last 20 laps wound down. However, a chance caution flag allowed Mears and team to make a well-timed pit stop for fuel, which gave him the opportunity he needed to win his fourth and final Indianapolis 500 as a driver in the Penske PC-20.
In 1992, at the age of 41, Mears retired from racing behind the wheel.
Following his retirement as a driver, Mears continued to be a valuable part of Team Penske. He has served as a spotter for all three of Helio Castroneves Indianapolis 500 wins, as the talented Brazilian racer easily credits Mears, his mentor, for helping him get the confidence he needed to succeed at Indy. Mears continues to serve as an advisor for the team and the racing icon can often be seen helping and spotting for Team Penske drivers at the various tracks on the IndyCar circuit.
Mears' incredible feats behind the wheel were recognized in 1990 when he was named the Associated Press Driver of the Decade after winning 20 races in the 1980s. In 1997, he was inducted into the International Motorsports Hall of Fame. In 1998, he was inducted into the Indianapolis Motor Speedway Hall of Fame. Also that year, he was voted into the Motorsports Hall of Fame of America. In 2017, Mears was recognized by his fellow team members as he was inducted into the Team Penske Hall of Fame, appropriately during the Month of May in Indianapolis.
Mears is widely regarded as a living legend in motorsports. As the team prepares to get on track for the first time in 2020 at Texas Motor Speedway next week, Mears is ready to once again assist the team wherever he is needed as he helps add to Team Penske's unprecedented IndyCar legacy that he helped build and define.
More Penske Material
Read more about the personalities, stories and moments that make Team Penske unique.