Behind The Scenes with Bama
February 22, 2021
"Penske Material" provides an inside look at some of the personalities, stories and moments that make Team Penske so unique.
Like many people in the motorsports community, Michael "Bama" Williams was born into a racing family. Williams early childhood memories were filled with nights at New Smyrna Speedway, nestled in the countryside just outside of the "World Center of Racing" – Daytona International Speedway.
"My biological father and my mother both raced at New Smyrna," recalled Williams, who is in his 10th season working in transportation with Team Penske in 2021. "I say I worked on the car growing up, but I did just a little more than a 5- to 7-year-old could do. My mom, Betty, raced in the powderpuff events, so I guess you could say I was born a racer."
After Williams and his siblings moved to Alabama with his mother, his time in racing hit a brief pause.
"From about 14 years old and all the way through high school I was focused on sports and farming. I played football and baseball and spent the rest of my time on the farm," said Williams. "But I couldn't kick the desire to be involved in racing so I bought a 1979 Oldsmobile Cutlas when I graduated from high school in 1993 and started racing at South Alabama Speedway."
Williams is quick to credit his mother and four siblings as his biggest supporters growing up and as he chased his racing dreams.
"I have the three best sisters – Lee, Michelle and Courtney – and a great little brother in Josh that anyone could ask for," said Williams. "We're one of those families that sticks together and supports each other. We lost my sister Lee on Christmas Day in 1999, so it's on us to make her proud in what we do."
In 1998, Williams followed another family tradition, becoming a truck driver. The farming industry had taken a hit and the aspiring racer had to make a career shift in his early 20s if he hoped to continue his passion. Williams took a job with Hilton Cooper Contracting, hauling heavy equipment while maintaining his contacts in the construction industry and the struggling farming business. A major storm that swept through South Alabama in 2001 created a life-changing fork in the road for Williams.
"I went down to James Finch's race shop in Panama City, Florida," said Williams. "It was the closest major race shop to where I lived and I thought I'd take a chance. As I was walking out the door, Mark Reno, the general manager, yelled and said, 'You can drive a truck right? Our truck driver just put in his notice, so can you go to Milwaukee this weekend?' Of course, my answer was 'yes sir!' I've been in racing since."
Williams worked for Finch's Phoenix Racing team from 2001-2006, serving as the driver of the team's hauler, traveling to races and making weekly trips weekly to North Carolina and back for parts in Mooresville, NC. At the track, Williams worked as a mechanic, and he eventually served the spotter's role for the team, spotting for more than 18 drivers once during a single season.
So how did Williams get the nickname "Bama"? "There was a loudmouth character from a small town in Alabama that would call in to the John Boy and Billy (syndicated radio) Show, so naturally the guys started calling me Alabama, since I was from Blue Springs, Alabama – population 100. I was parking the hauler at the track and instead of calling me in by my car number, the NASCAR Official said, 'come on in Alabama.' and it really stuck from there."
The next stop in Williams' racing career came in 2007 when he became the 101st employee hired into the newly formed Red Bull Racing team in Mooresville, NC. Williams served as the hauler driver and a team mechanic from 2007 through the 2011 season, throughout the team's time in NASCAR competition. Following the 2011 season, Williams decided to step away from the NASCAR circuit to focus more on his family, his newly-formed trucking company and his own short track racing, which he still does today, when time allows.
Team Penske Director of Transportation Chris Yoder presented Williams with an opportunity to return to the NASCAR world before the 2012 season, however.
"I was back in Alabama and got a call from Yoder. He asked if I could come meet with him, and as fate would have it, I had a load going to Mooresville the next day so I stopped by after dropping it off and I've been at Team Penske since."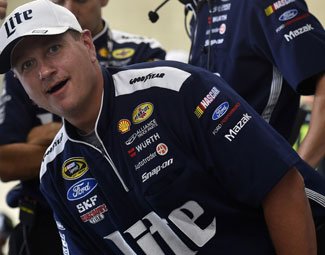 Williams began working on the No. 2 team in 2012, the season that Brad Keselowski and the team captured Team Penske's first Cup Series championship. Williams served on the No. 2 squad through 2019 when he transitioned with crew chief Paul Wolfe to the No. 22 Shell-Pennzoil Ford team with driver Joey Logano.
Away from the track, Williams spends as much time with his family as possible. Williams credits his wife Brenda for helping keep the "train on the tracks" while he and his two sons work on race cars, compete in high school fishing tournaments and live life on the edge.
"Right now I'm working on a race car for my son Brice, who just turned 15. He's been racing karts but we're working on a dirt late model with a 350 HP, 602 motor for him to learn on when he's not fishing competitively," said Williams. "Then we've got Brayden – he's 10 and probably the toughest human I know…broken bones, been bitten by a snake, but nothing takes him down. He just keeps digging."
The man they call Bama appreciates all he has in his professional and personal life and the opportunity to pursue his passion for racing.
"I'm a lucky guy," said Williams. "I've got a great career and an incredible family. I've won some of the biggest races in NASCAR and I plan to keep adding many more."
More Penske Material
Read more about the personalities, stories and moments that make Team Penske unique.